Haley Pruitt, an Amateur rider from Lakeland, Tenn., rides with trainer Emma Miller at Southwind Stables in Olive Branch, Miss, and has been riding for seven years. Haley started riding in the Hunter/Jumper discipline, but since her horses have been at her home barn she has been riding in multiple disciplines. She mainly shows in Show Jumping and Eventing.
Tell us about your OTTB: Ringo, JC Name: My Little Tip, is a 2017 Thoroughbred gelding. He raced 11 times, primarily at Oaklawn. Ringo placed third one time, earning $5,916. I bought him from my family who bred, trained, and raced him. I trained him for Show Jumping because it is what I am most familiar with, but we have dabbled a bit in trail riding, cow sorting, and Hunters. I had initially wanted to compete in Showjumpers and Show Hunters, but he has proven to be quite brave and fast, so we switched plans and went with Eventing.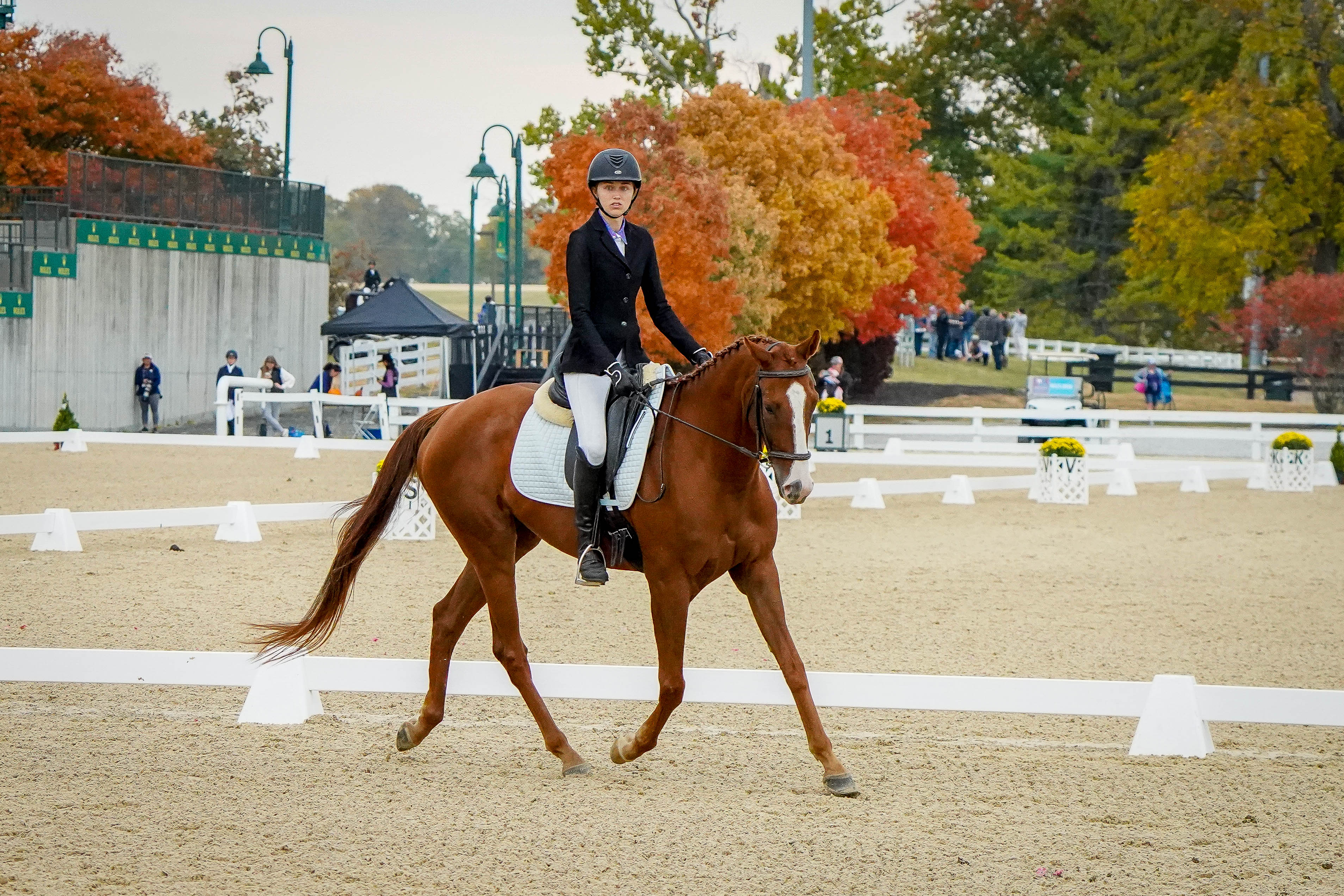 Why did you decide to enter RRP? In 2019, I got my first two horses off the track from my family. We went through a large learning curve together. I got to teach them everything they knew off the track, and they taught me how to take care of and retrain horses. Through this experience, every achievement felt so special, and they just turned out to be the best horses I could've expected. Therefore, when I learned about this show and the fact that people take these OTTB's and train them in any discipline imaginable, and because people loved being able to experience these moments, it became a dream to show here one day.
In your opinion what makes the Thoroughbred special? Everything. They are so versatile, willing, forgiving, full of personality, and competitive. They go from hard working, strenuous jobs on the racetrack to great lesson horses, amateur horses, or upper-level horses. They face every new challenge wholeheartedly and successfully.
What has been the biggest challenge throughout the retraining process? For myself, finding the time to ride and train. I have a lot of weeks where I don't have time to ride and lots of weeks where I may only get to ride once or twice. For Ringo, his nerves. When I first got him, he was so nervous, and it made me question if I was going to be able to train him. It took us seven months to really get along and start working well together.
Who has helped you the most during this retraining process? My trainer, Emma Miller, who helped us work through the nerves and anxiety we both have. She has also helped me with his flat work and jumping.
What were you most nervous about? Jumping—I think every time we have a jumping show, I freak out thinking I don't know how to jump anymore and that it is all going to go wrong. It never does with him though so it's a misplaced fear.
Advice you would give to anyone looking to purchase an OTTB? Consult your trainer first and utilize their eye and experience while shopping. I have gotten all three of my horses, including Ringo, on a bit of a whim without informing my trainers. Other than that, find the horses that gives you a special feeling, and then take your time, listen to them, and be willing to ask for help.