Fourteen years ago on July 4th in Tunica, Miss, a young boy started on the road that would lead to much success as a young man. Spencer Hardin and "A Lopin Sweet Dream" entered the Western Pleasure Small Fry Walk-Trot class, and thus began a life of equestrian sport.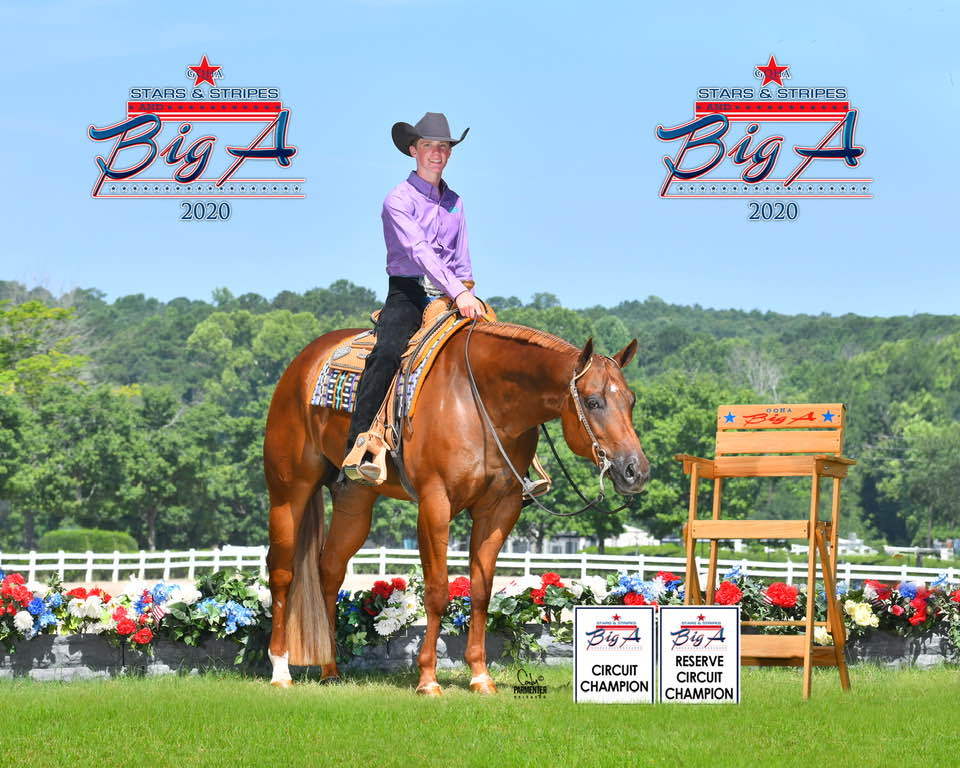 While pregnant with her son, Kay Hardin, bought an American Quarter Horse to get back to riding and showing. Of course, her yet-to-be-born son would go on that journey with her. Today Spencer is an 18-year-old Mississippi State Freshman with 14 years of experience developing the life skills that have landed him on the national boards of American Quarter Horse Youth Association and National Snaffle Bit Association Youth. When asked about these life skills he notes, "discipline is the biggest one, but horses also teach you patience." He credits his trainer, Cory Everhart of Ward, Arkansas, for helping him learn and develop these skills. "Mr. Cory is like a second dad to me." But he also says, "my mom has been my biggest supporter from day one." He recalls his mom sometimes bribed him to show by giving him a cheap toy in those early years. Now he says she'd have to give him money to not show! "My mom always knows what's best for me but doesn't force anything." Spencer says his dad supports him from the rail and both parents push him out of his comfort zones.
He confesses going through the teenage years like most kids: a little resistant to parents. Now as a young adult he wouldn't change those years of hard work, wins, and losses. "You can't get these experiences anywhere else." He tells how the lessons learned in the showpen and on the road have translated to success in school and life. He's traveled to 25 states, making friends across the country, and honing his interpersonal skills. He's glad for the intangible benefits which he says are invaluable. Many of these friends have become family, and he looks forward to seeing them at events.
When he moved from the under 13 age group to the 14-18 year-old group, he initially felt intimidated. But he quickly felt the support of his horse family and those years were filled with many special memories. Through this he learned to problem solve by taking a step back, thinking it through, and then moving on. "Money can't buy these life experiences."
Spencer's mom says his role with AQHYA and NSBA has been "to grow awareness of these great associations and help boost involvement in horses for kids as they have laid a great foundation for him: work ethic (cleaning stalls daily), sportsmanship, and learning how to lose in the showpen and dealing with adversity." His parents couldn't be more proud of the young man he has become by persevering through challenges and benefitting from many opportunities in equine sport.
A few of Spencer's significant accomplishments:
Current 2nd Vice President of AQHYA - American Quarter Horse Youth Association
2022 Reserve World Champion at the AQHYA World Championship Show in Oklahoma City, Okla.
First Vice President, Mississippi Quarter Horse Association
AQHA Congress: Top 5 in 2021, Top 10 in 2022 Youth Western Pleasure
AQHA World Top 10 Youth 14-18 Western Pleasure
AQHA currently 2nd in nation Youth Western Pleasure with KN Notin Better (purchased form Masterson Farms in Somerville, TN)
He and his horse KM Nothin Better are currently leading the nation for AQHA highpoint in Youth Performance Geldings.
2022 AQHA/Wrangler Aspire Award for leadership and service
2020 Show Clothes and Tack Drive to donate several hundred articles of show clothing and tack to 4-H leaders in MS, TN, AR, LA, AL
Top 5 at the NSBA (National Snaffle Bit Association) 2022 World Show
President Elect for the NSBA Youth for 2023
High School Student Body President, National Merit Finalist, Star Student (highest ACT in his school), National Honor Society President
Freshman, Mississippi State studying Electrical Engineering; "I'm good with numbers."