Popular Consumer Apps and Online Experiences Help Spur Horse Tech Adoption
The digital world is integrated in our everyday life, you don't think twice about using your smartphone to order food, to reserve a car or to provide data on how many steps you took and calories you burned. Now transfer that to the horse world and you might be thinking, what does consumer tech have to do with horses? Believe it or not, there are some amazing advancements that mirror the digital consumer experiences you are familiar with that directly apply to equines. The Tech Equestrian, a technology and lifestyle blog focused on educating equestrians of the latest technology tools profiled the following five solutions to make owning a horse, that much easier.
Uber for Horses = EQUO Equine Transport App

International professional equestrians Daniel and Steven Bluman knew there was a better way to answer the struggles of transporting their equine athletes. Six years ago, it was a painful process, having to call each of the large shipping companies to get a quote, wait a day or longer to receive a quote and then when you thought you were all set, the schedule changed on you. "They wanted to change that process, because the only thing that was changing was the equipment to transport horses, nothing else," said Juan Palacio, CFO and CMO of Equo.
Uber + Expedia = Equo
"Strategically, we modelled the Equo app after apps riders were used to using for themselves, such as Uber and Expedia. With familiar user interfaces, equestrians quickly fell in love with Equo's easy to schedule, track and pay solution," explained Juan.
Four Stages to Each Trip
Reliability, and safety are what matters when transporting precious animals and Equo has developed a method in achieving that to deliver on their promise. "There are four stages to a trip," said Juan, "It starts with the request from a customer, and then you are assigned a shipper with name and full details, followed by a pick-up notification on the day of travel and live tracking in route (including alerts and updates), and lastly, a post-trip history and summary." There is also a two-way rating system, where the user can rate the driver and driver can rate the user, just like Uber.
In terms of safety, all the drivers must go through background checks and are all licensed, insured professionals. Equo is the only online horse transport that hires legal drivers. The app launched in January 2016 and works with a powerful network of MOT/DOT transport providers.
FitBit® for Horses = NIGHTWATCH® The world's first smart halter™
Jeffrey R. Schab is Founder & CEO of Protequus®, a biomedical engineering firm established in 2013 to protect the welfare of horses through data science. Today, their flagship offering is the innovative NIGHTWATCH smart halter − an IoT-enabled, AI-driven, edge-computing, predictive-health wearable.
A major challenge at launch in 2018 was introducing a bleeding-edge technology to a market steeped in tradition along with educating customers the value and importance of 'getting ahead of' versus 'reacting to' problems.
Since the launch of FitBit in 2009 we have seen significant advancements in wearable devices beyond activity tracking. "Popular human wearables and other consumer technologies have paved the way for broader adoption of equine technologies because horse owners can now draw upon comparisons that make it easier for them to understand the value proposition and select the solution that is best for them and their horses," said Jeffrey.
Jeffrey's background as a biomedical engineer and accomplished equestrian shaped the creation of the smart halter™ that monitors real-time biometric and behavior data on horses to alert caretakers to early signs of colic and other forms of distress. With more than one thousand smart halters deployed in the US alone, horse owners can have peace of mind as their horse sleeps overnight knowing they will be alerted to early signs of a potential problem - a testament to the brand's mission.
"We have only begun to scratch the surface with NIGHTWATCH and are presently conducting market research to inform our follow-on Gen 2.0 portfolio of solutions to protect the welfare of horses not just overnight, but also in transit, during exercise, and while pregnant," said Jeffrey.
NIGHTWATCH is available as a recurring subscription service to horse owners in the US and Canada starting as low as $49/month, which includes a free smart halter™.
Airbnb for Horses = Staller
International equestrians and technology entrepreneurs, Pablo Jimenez Godoy and Arturo Ferrando are co-creators of the Staller app, a solution for equestrians to find either short-term or long-term stabling and boasts features that are similar to the popular online lodging marketplace: Airbnb.
The Inspiration
Launched in December 2016, the Staller solution was designed to digitally manage the need for stable rentals and listings that feature an advanced search based on available inventory, location, and price. "Prior to the app, you had to go through a realtor, and they would add a 10%-15% margin, and it wasn't a focus for them," said Pablo. Given their frustration with the whole process they both saw the opportunity in Wellington, Florida. The adoption took off as equestrians realized the convenience and ease of its features.
Product Roadmap
"We have been experiencing a great level of expansion nationwide. Helping our customers streamline the entire booking process and bringing transparency and trust to the market is the main driver of our ongoing growth. Equestrians are more willing to book stalls online and we are leading the movement," said Arturo proudly.
The next phase of the Staller product roadmap includes a solution that will allow barn owners the ability to monetize their barn by offering marketing expertise and technology integration. This new enhancement which he calls "monetizing experiences" will allow owners to customize offers, from promoting a summer camp to attracting riders for a training session via the app. "It's important to give our customers a value-add."
"Equestrians are a pragmatic, close knit community and working with them as fellow horse lovers and equestrians brings us a great amount of satisfaction. We are lucky to have an amazing staff and support team to help make the Staller evolution a reality," shared Arturo.
Tinder for Horses = Horse Match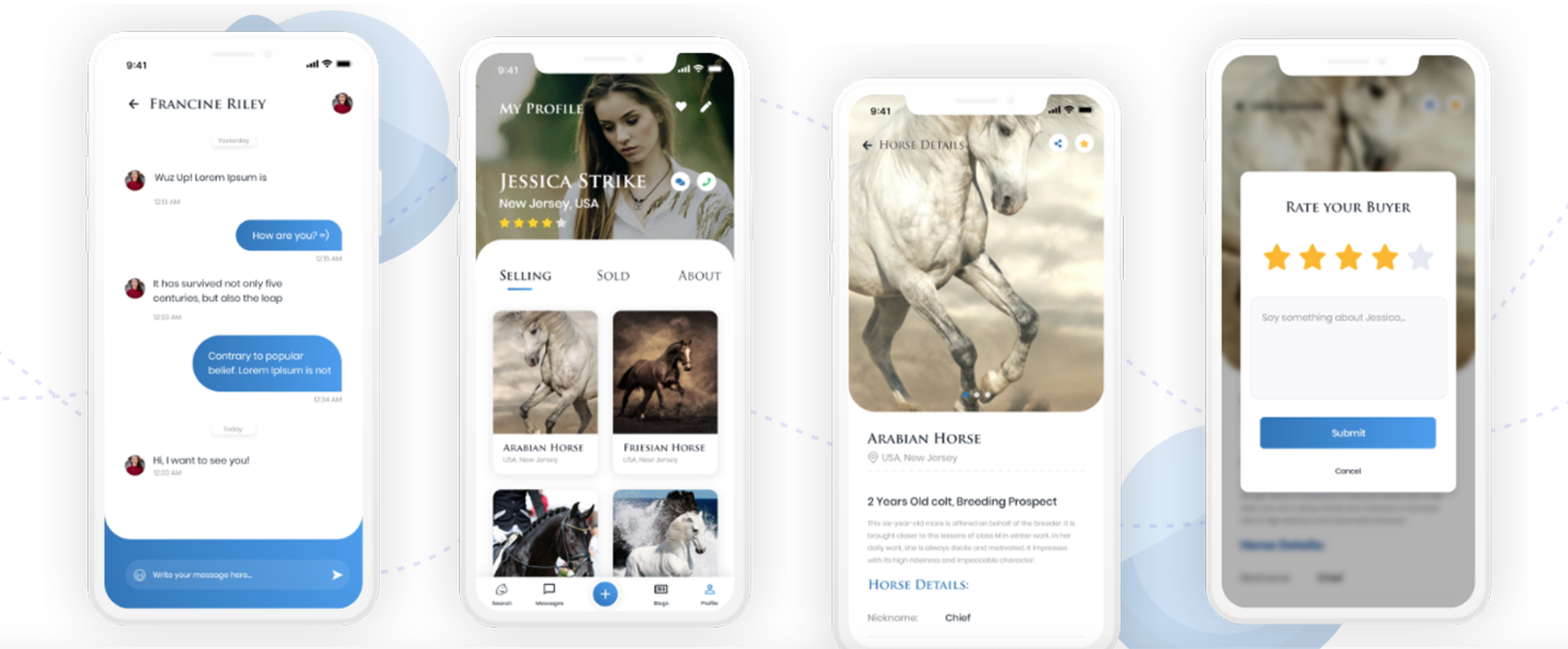 Horse Match is an app that works like the popular dating app, Tinder - swipe right for ones you like, and swipe left for ones you don't. "We wanted to provide our customers the ability to leverage user-friendly technology and offers robust features," shared CEO and co-founder, Summer Gentry along with Michael Upchurch, COO and co-founder.
The app mirrors Tinder in not just functionality, but in creating a profile that drives your personalized results. "You can create a profile to help drive the type of horses you are looking for and owners get more qualified buyers," points out Summer. "We are always working on adding more horses to the site and we incorporated a 'featured horse of the week' to help drive engagement," she said. Recent enhancements include a rolling picture carousel, video capabilities and more robust search features.
"We launched Horse Match in January 2021 using the latest technology and invested in cloud service providers for our applications and website," said Michael. Michael stressed the importance of making sure they have industry leading security in place. Currently the app is free, but the future model includes sellers buying ad space through a subscription in addition to bulk pricing.
"Our solution also includes the addition of a rating system – buyers can rate sellers and vice versa, to help build transparency in the process."
Oura Ring for Horses = Piavita
Dorina Thiess, CEO and co-founder of Piavita – a name that combines PIA (Precise Invisible Analytics) + vita which means 'life,' - launched a solution in March 2016 with the mission of providing vets with better insights into the health of their equine patients. "What makes our equine companions different than at-home pets is that horses are relatively on their own most of the day – in a paddock or stall. Tech advancements are now changing the way we monitor, care and train our horses. Technology is a natural fit for the veterinary industry, and I'm confident that our product can have a positive impact," said Dorina.
The Piavet Platform: Optimizes Time and Provides Accurate Results
Similar to OURA, a wellness ring and app designed for humans to monitor sleep, heart rate and more, the Piavet platform enables efficient, objective analysis of medical data using non-invasive sensor technology that can monitor heart rate, ECG, RR intervals, body temperature, respiration rate and activity 24/7. "If you think about a typical vet visit, your horse gets nervous naturally – humans influence horses – so their heart rate increases, now think about those vitals in the absence of humans and you may get a completely different picture." The goal with encouraging vets to use Piavita is to optimize their time and provide more insights 24/7," Dorina explained. It is a cultural shift she added, but once they realize the benefits, it will be hard to turn back.
Unlimited Possibilities
As Piavita becomes more established in the marketplace and focuses on an industry that is not known for innovation, Dorina is determined that their solution will become more accepted around the world. With offices in Berlin, Germany and Charlotte, NC the tech transformation will also come from owners and the economics of the care. "With employees across the globe and the product available in 8 countries including 60 clinics (20% of U.S. university clinics are using it) and backed by passionate investors, we are in this for the long run," she said confidently.
Resources:
Equo
App available on the App Store and Google Play
NIGHTWATCH® The world's first smart halter™
App available on the App Store and Google Play
Staller
Online only
Horse Match
App available on the App Store and Google Play
Piavita
Piavet - App available on the App Store