Caitlin Milford is an Amateur rider from Elkmont, Ala. She rides with trainer Meris Greges of Cotton Meadows Farm. Caitlin has been riding for 25 years in Dressage and Eventing. She has competed through training level Eventing and first level Dressage.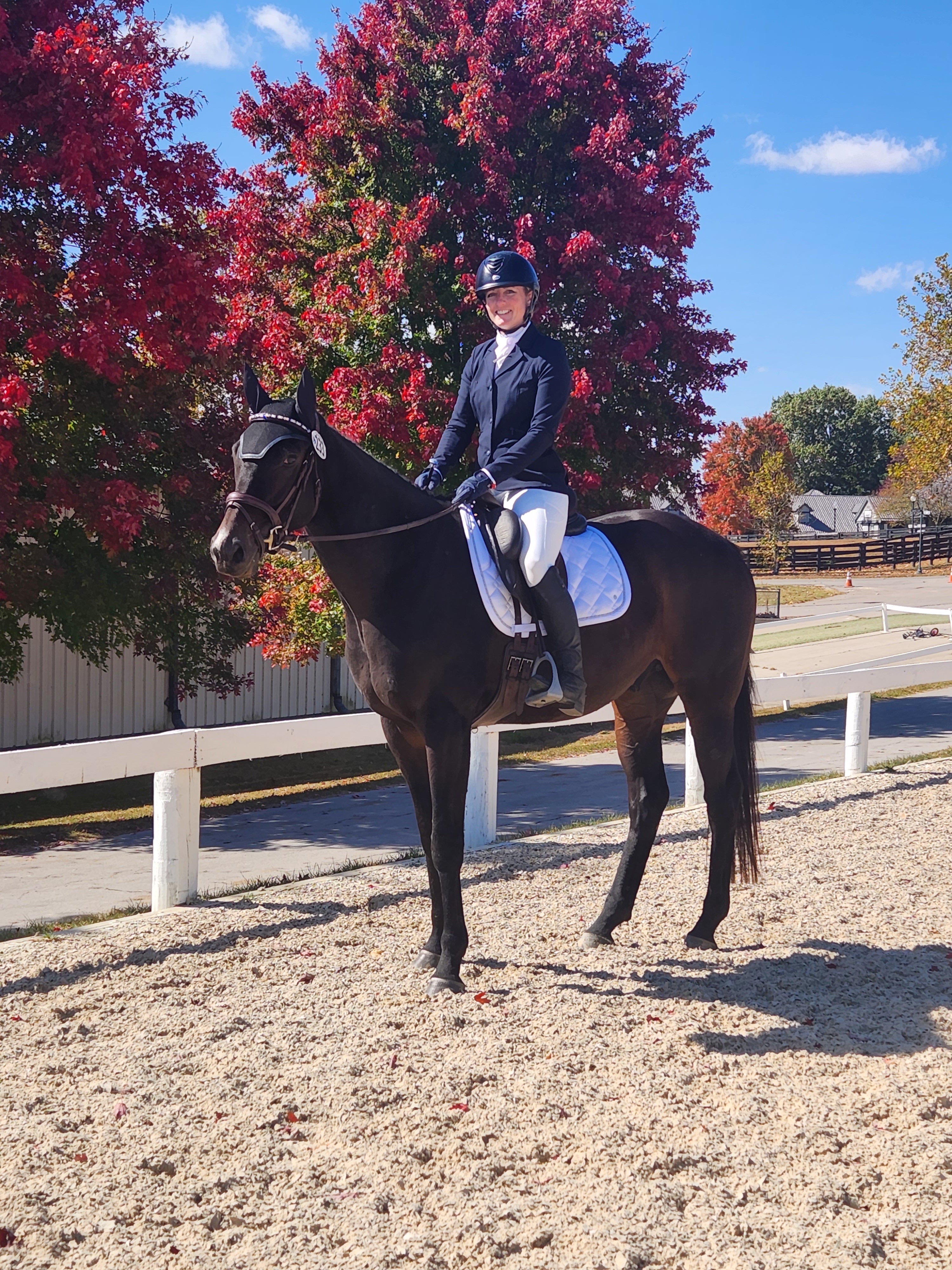 Tell us about your OTTB: Going Beserk (barn name "Ender") is a 2018 OTTB by Kitten's Joy out of Anura by Giant's Causeway, bred by SF Bloodstock LLC. He raced twice, once at Gulfstream Park in Florida and once at Canterbury Park in Minnesota. He won a total of 700 dollars on the track and was retired after it was clear he didn't have the desire to run. He was purchased off the track by an Eventing trainer in Lexington, KY and advertised for sale in late August of 2022.
I reached out to the reseller who currently had him, and then had a friend of mine visit the farm to see him ridden. She raved about him, talking about his curious personality and wonderful movement. I had him vetted, and the vet performing the pre-purchase was very enthusiastic about his sweet personality and his athletic ability. I've always loved Dressage, so it wasn't a hard decision to enter into dressage at the RRP TB Makeover. He's taken to it so well, and it's been so rewarding to watch him learn throughout these last months.
Why did you decide to enter the TB Makeover? I think that the RRP competition has helped build the reputation of the Thoroughbred as a wonderful partner for a wide variety of riders, and I wanted to be a part of that. They do a fantastic job showcasing the versatility of the breed.
In your opinion what makes the Thoroughbred special? I believe that the combination of their heart and athleticism really makes them shine as partners in any equestrian sport. I've ridden many different breeds, but there's something about the Thoroughbred's mind and willingness that will always set them apart for me.
What has been the biggest challenge throughout the retraining process? The biggest challenge for me has been keeping Ender focused. He has talent and is willing, but he's a baby so sometimes we get distracted.
What did your TB pick up on quickly? He's been a quick study at pretty much everything we've tried our hand at, but he's had a natural ability for Dressage since day one.
Who has helped you the most during this retraining process? My trainer, Meris, has helped me a lot with our dressage. My friends, Savannah and Laura, have also been a huge help, keeping me motivated even when things got hard.
What were you most excited about leading up to the TB Makeover? I was most excited about getting to build my OTTB's resume and giving him a positive experience in a huge environment.
Advice you would give to anyone looking to purchase an OTTB? This really depends on what kind of horse you're looking for. If you're looking for an amateur friendly, young horse that you can bring along by yourself, then I'd recommend that you purchase through a reputable reseller. I personally want to know a little more about my potential horse's temperament and rideability before I commit to what's hopefully a long-term partnership.
I also strongly recommend that you invest in a pre-purchase exam. A thorough vetting can save you from a lot of heartache and unexpected bills.